Search Engine Optimization Is Critical Given The World's Recent Digital Transformation
Your website is a centralized location for people to learn everything about your organization's mission and work, and likely a main way they interact with you. You've invested time and resources to ensure a good looking site with a great user experience - but how do you know it's being found by your target audience?
Even the most beautiful websites are only as good as the users they reach, and SEO is a key component to healthy ROI. Knowing fundamental SEO tactics and best practices, and how to measure their success, is all part of our comprehensive SEO audit.
Customized Approach
Our SEO audits are conducted by our in-house SEO specialists who not only take into account details and nuances frequently missed by software and automated programs, but also the unique nature and needs of each individual client. Our experts not only conduct a thorough SEO audit, but explain the findings to help you understand the impact for your organization, and make a plan to move forward.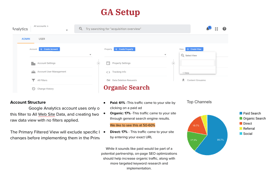 A Comprehensive Audit & Action Plan
Our SEO audits dive deep into your website's analytics, site health, organic positioning, and more. We specialize in both technical and on-page SEO, providing a comprehensive SEO strategy that includes getting your site healthy and ensuring all the technical components - from sitemap to indexing - are primed to champion the on-page success.
All SEO Audits Include:
Indexation Check

Tests for Site Health and Site Speed

Backlink Profile Check

Organic Positioning As Compared to Competitors

Overview of Top Sources of Traffic

Opportunities to Pair SEO Efforts With Content
Audit of Google Analytics Setup / Data
90-day Priority Plan

Tools For Maintenance
SEO is ever changing and so is your website, so being aware of the tried and true SEO Best Practices is crucial to maintaining your SEO efforts. All our SEO audits also come with expert consultation and a Best Practices Document to help you keep your website well-optimized.